Day of .Net in Ann Arbor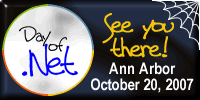 Day of .NET in Ann Arbor is a one-day conference on all things .NET organized by developers for developers. This event is being offered at no cost to anyone interested in .NET development, and will take place on October 20, 2007 at Washtenaw Community College in Ann Arbor, MI.

I will probably attend this, though it is a bit out of the way. But we don't seem to get these types of events locally. Sam, Gary: want to go?
Labels: .Net